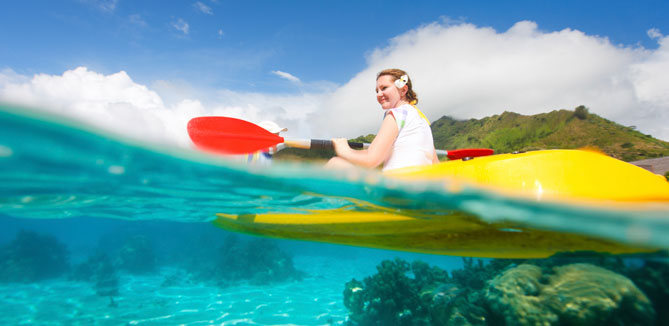 Kayaking is one of the greatest ways to explore and discover the beauty of Fijian nature. Kayaks are small paddle boats that are very maneuverable and can be navigated through very shallow waters. This allows the paddler to be able to access spots that are out of reach for larger motor driven boats. TheYasawa Islands are a sea kayaker's delight. A region of sparkling azure waters and white sandy beaches with palm trees, beautiful coral reefs and colorful fishes.
We can arrange any kind of tours :
- Day tours: Relax and intake the exquisite scenery as you paddle around wayalailai with your personal guide, snorkeling and swim in the blue water of the pacific ocean.
- Multi day tours : If you want some extra challenge, we can arrange custom tours, where we can cover more islands using different kind of accommodation (camping, village stay, resort) . Every Kayak adventure is different and may include snorkeling, hiking and sea cave exploration. You may see tidal pools, sharks, sea turtles, dolphins and colored fishes while wild parrots can at times be seen flying overhead.
Related Posts
---
---