Wedding……The perfect recipe to make your dream come true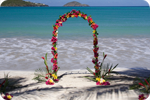 Naqalia Lodge is a small resort, where you can celebrate the perfect day with your family and friends. Blue sky, turquoise water, and a pure white sandy beach will make your Fijian beach wedding a must.
We can reserve the entire resort for you and your guests just to make you feel at home and to have privacy to share these unforgettable moments just with your loved ones. You will enjoy the food and the ambiance created by your Naqalia family, and we will help you to make your dreams come true.
Weddings in Fiji are recognized as legal worldwide.
To get married you will need:


Minimal age – 18 years old for both -


Birth certificates


Passports with valid legal status


If applicable, divorce certificate


If previous spouse is deceased, a death certificate


Marriage license (the price for a license is between 20 and 32 FJD)
The Registry offices open from 9.00 am – 3.00 pm Mondays to Fridays.
The office is closed on weekends and public holidays.