Naqalia Lodge, your unique slice of paradise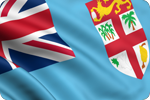 Fiji is an archipelago of more than 332 islands, of which 110 are permanently inhabited, scattered around the reef-strewn Koro Sea in the southwest Pacific Ocean.
The majority of Fiji's islands were formed through volcanic activity starting around 150 million years ago. The population is 50% native Fijian and 45% Fijian Indians.
In the heart of the Pacific Ocean, Fiji is the perfect place for an unforgettable holiday with some of the most famous white sandy beaches, pristine reefs and great flora and fauna.
The first settlers of Fiji arrived around 1500 BC. The history of Fiji and its first inhabitants remains something of a mystery prior to this, as the Fijian people depended on memory in the absence of written language.
However, it's widely agreed that two distinct groups of people, the Melanesian and Polynesian, first settled Fiji, and today, those enjoying holidays in Fiji are more interested than ever to learn about these peoples and their influences.
Naqalia Lodge is a dreamy location for both weddings and honeymoons, an amazing challenge for eco-lovers adventures, and for sure a once in a lifetime holiday for anyone who loves to relax and escape from their every day life.